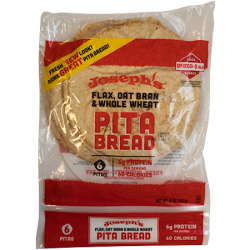 Joseph's Bakery Breads are healthy, low carb and high in protein with no cholesterol. Containing flax, oat bran, and whole wheat, these 3 healthy ingredients may give extra protection to your heart while you are losing weight. If you crave bread or pita bread, they will absolutely do the trick for you. Now you can say "no" to other healthy breads that tastes like cardboard, and enjoy these breads as sandwiches, pitas, pizza crusts, or even cut them into smaller pieces for dips.
Stored at room temperature: Approximately 21 days.
Stored in freezer: Approximately 3 months.
Why we love Joseph's Bakery Products:
Great tasting
Kosher friendly
Low carb friendly
0mg Cholesterol
Made with flax, oat brand and whole wheat
Check out the reviews on these products for all the great feedback from customers across the country!