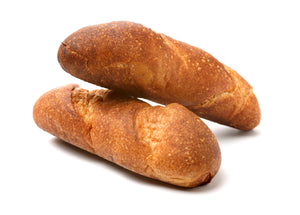 Welcome to the future of low carb/keto bread!! This is the low carb bread line you have been waiting for! By far our top selling and most popular in store. Voted best keto/low carb bread on the market. Sold exclusively at Fresh Foodie.
Keto Gold bread gives you all the taste, texture and feel of classic white bread.. but without all the carbs! Every Keto Gold product is baked fresh every week. The bread can be frozen or stored in the fridge.  Use this bread the same way you would use a traditional bread.  Keto Gold is grain and flour free and boasts high protein. Although perfect for those keto or low carb, this bread is an amazing alternative to those who love bread but are looking for a much healthier option. 
2 mini baguettes per bag.
Nutritional Info Per Serving: 
Calories 403, Fat 10.9g, Net Carbs 7.3g, Protein 54.2g
Ingredients: Gluten, Fiber, Flax, Inulin, Erythritol, Xanthan Gum, Salt, Yeast