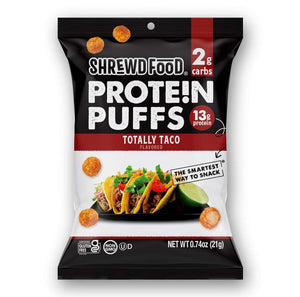 HIGH IN PROTEIN, LOW IN CARBS:

 

Our sweet crisps have as much protein as they do flavor, coming in at 12-13 grams of protein per serving. Looking for a healthier version of your favorite cheat? We've got you covered.
GLUTEN-FREE GOODNESS & ALLERGEN FRIENDLY:

 

Are you following a gluten-free, peanut-free, tree-nut free, soy-free, or egg-free diet? You're safe to snack on our protein crisps. Our crisps are also free from corn syrup, artificial flavors, colors, and preservatives for a guilt-free snack.
LOW IN CALORIES, HIGH IN FLAVOR:

 

Each bag of crisps contains only 90 calories, allowing you to treat yourself to the snacks you love without spoiling your diet.
KETO-FRIENDLY:

 

Shrewd Food products are super HIGH in Protein and Taste while being super LOW in Fat, Carbs, and Sugar. Shrewd Food is for everyone that wants to eat healthier without sacrificing taste.