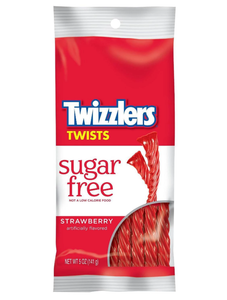 Hershey's Sugar Free Candies have fewer calories compared to their "regular" counterparts. However, they contain about the same level of fat as regular chocolate. Hershey's Sugar Free items contain sugar alcohols such as maltitol to replace the sugar. These sugar alcohols are digested more slowly and generally cause a relatively small rise in blood sugar levels. For people with diabetes, this is preferable to the sharper increase in blood sugar associated with products containing sugar.

Enjoy the fun of Twizzlers Strawberry twists that are sugar free with 20% fewer calories. 
Size: 5 oz Bag
Ingredients: Maltitol Syrup: Wheat Flour, Sorbitol, Corn Starch, Contains 2% Or Less Of : Palm Oil, Salt, Corn Syrup, Artificial Flavor, Citric Acid, Glycerin, Artificial Color (Red 40), Potassium Sorbate (Preservative), Sodium Carbonate, Acesulfame Potassium, Mineral Oil, Soy Lecithin.
Nutrition Facts: per 6 Pieces (43 g) : Calories 130, Fat 1 g, Saturated Fat 0 g, Trans Fat 0 g, Cholesterol 0 mg, Sodium 110 mg, Carbohydrate 34 g, Fiber 0 g, Sugar 0 g, Sugar Alcohol 23 g, Protein 1 g
Warning: Excess consumption may cause a laxative effect.