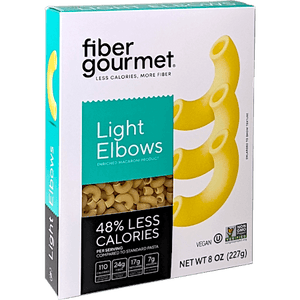 Fiber Gourmet makes irrestitable low carb, low calorie pasta made of resistant starch fiber so that you can enjoy the same scrumptious pasta taste and texture, without worrying about the carbs!
You have a lot less reason to worry about because Fiber Gourmet pasta are made using only natural ingredients, with no artificial flavours or colours.
There's plenty of reasons that make Fiber Gourmet so special: 
High in resistant starch fiber (up to 25g, compared to 2g in regular pasta)
Very low in calories (only 100 calories per serving)
Totally low carb
Perfect for weight loss or weight management
Diabetic friendly
Low Glycemic index
Kosher certified
Non-GMO verified
Certified Vegan
Tastes like real pasta!
Ingredients:  Enriched durum semolina (niacin, iron, thiamine, mononitrate, riboflavin, folic acid), modified wheat starch and wheat gluten.

Contains: wheat.
May contain soy.