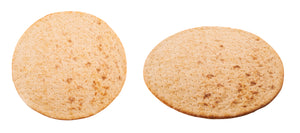 Frozen pizza crust.  6 servings per pizza.
Per slice: Calories 82  Fat 3.3  Net Carbs 1.3  Protein 9.5
Ingredients: Pizza Crust (Wheat Gluten, Fiber, Flax, Inulin, Erythritol, Xanthan Gum, Salt)

Cooking Instructions:
1. Pre-heat oven to 400*. Remove pizza from package and place on a baking sheet.
2. Bake at 400* or on broil until toppings are melted and bubbling.
4. Cool on a wire rack. Cut into slices and serve!
*Optional to add toppings before or after crust is baked.